Content
The Konix Multi-system Games
Here are the know games that were either in development for the Konix Multi-system or had been planed to be. Some have screen shots from magazines and some have videos provided with kind permission of Jon Dean (the guy that actually filmed them). Please don't distribute or re-produce these videos as they remain Jon Dean's Copyright.
Konix Chess - Konix Software, written by Digital Ink

Based on the award winning software 'PANDIX', this would have offered something to recover from the frantic driving and blasting. Bizarrely, this was touted as being compatible with the Power Chair... Who knows what the idea was there? If this was anything like Battle Chess then it may have been fun. But let's be brutally honest - it's just Chess isn't it. Something to appeal to all the members of the family. It would have taken a lot of effort and design flair to make this a real seller. Something along the lines of Battle Chess with attractive, well animated graphics could have given this a chance to sell. My personal take on this is that it would have suffered low volume sales.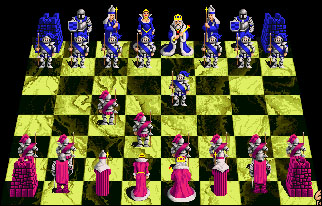 I personally don't play chess games on computers or consoles - I was attracted to the idea of playing chess on Xbox 1 because of the tuition modes which were pretty useful and helped ease me into the game - I didn't stick at it. But maybe I'm not the most qualified to comment on computer chess games. We all have our preferences and Chess isn't one of mine. Maybe there's a bunch of people out there who would have bought it?
From the press release:
KONIX CHESS (Expected availability OCTOBER '89)
Classic Chess game based upon the 1988 World Amateur Computer Chess Champion software 'PANDIX', with special 2D or 3D play options and selectable pieces. Many levels of play to suit beginner or expert plus unique option which allows 2 players to battle it out on two separate Konix Multi-Systems! Also works with Konix Power Chair. Written by Digital Ink.
Screenshots