Content
News
Page 3
Another Konix Demo Emulated!
23rd January, 2013:
Lee has been busy working on a demo we found. This is an early one based on hardware closer to the Flare One (Early version of the single ASIC and Z80 CPU). I'm excited to see our first 3D demo running.
The slow-down here is mostly because of the Fraps video capture adversely influencing the performance of the emulator.
The wire frames spin quicker normally.
This ROM and emulator are still work in progress so aren't released at the moment, so for the meantime, enjoy the video!
Flare One Prototype Found!
21st January, 2013: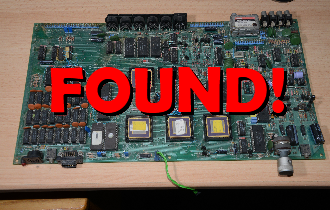 After the appeal went out for help in trying to emulate the Flare One better, one of the creators of the Flare One: Martin Brennan came forward with a very generous offer of the loan of the prototype PCB that had been in storage. It's unclear if this can be made to work, and if the BIOS on the EPROMs is readable however we're sure going to try our best.
It is very relieving to know that this piece of history still exists and that it won't now be cast into the landfill of broken electric dreams.
Wanted: Flare One Prototype (or BIOS)
16th January, 2013: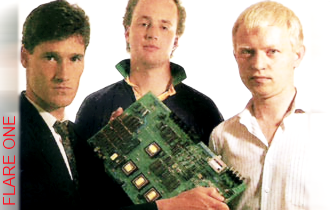 Just like the one in this photo of Flare Technology and the Flare One PCB!
In his mission to fully emulate the various revisions of the Slipstream chipset, Lee has come across various challenges.
It would help him greatly if there were a copy of the BIOS or enough technical information to fill in the blanks that can be derived from having access to a Flare One Prototype.
From what I understand there are likely to be only two people in the world who might have one (Martin Brennan and John Mathieson), but if they don't have it, who knows who they may have passed it onto? So, do you or do you know anyone who knows where the Flare One prototype might be?
As usual, If you have any information, please email me.
Progress being made emulating early Konix (Flare One Z80 era)
16th January, 2013: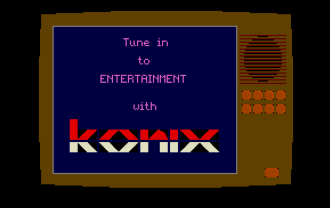 We've uncovered two demos for the Flare One version of the Konix Multi-system. Based on a Z80 CPU and with an ASIC much closer to what the Flare One must have been like (while it was still called the Konix Arcade System). The code has required Lee to jump through more hoops to emulate the one already complied ROM. He has also had to build the other ROM from the source code using a variety of specially hacked and modified tools.
There are two ROMS, one an animated TV which shows a bouncing flickering Konix logo with interference lines which gradually comes good and reveals the 'Tune in to Entertainment with Konix' message. This is presumably meant as an attract sequence for a trade show or something.
This is the first time I've seen this demo – so for me it's very exciting!
The other demo is a colour palette display showing to the programmers that their system is working (visually at least). This second demo is not exciting, but it's real Konix Z80 code running on the emulator - so that can only be good!
These ROMS and the updated emulator are still Work In Progress so they are not available just yet.
Konix Source Code for AMC98 released
3rd January, 2013: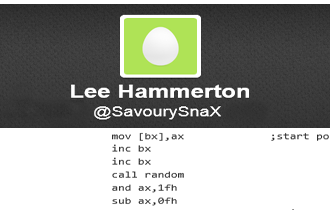 Today the Source Code and a custom Assembler for Jeff Minter's Attack of the Mutant Camels 1989 written for the Konix Multi-system has been released.
This means that if you have the skills, you can modify the code and build a ROM that will work in the recently released Emulator. It would be great to see the game developed further!
You can gain access to it on GitHub by visiting SavourySnaX's Twitter account
A Dongle, a Dongle! My kingdom for a Dongle
18th December, 2012: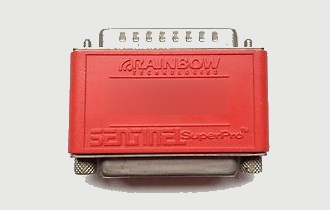 After quite some investigation and experimentation, I've realised the PDS software for the Konix Dev Kit is unfortunately Dongle Protected. This may have been obvious to some, but I never used this system when it was released, and I don't have a manual.
So... I'm on the lookout now for a Dongle that enables the PDS software to run. Until then we won't see any life from the Konix Dev-kit as it won't run software on it's own.
If anyone knows more details about PDS dev kits and where I might find a dongle (or how to build on if it's quite simple) then please get in touch!
Konix Multi-system Emulator Released
9th December, 2012: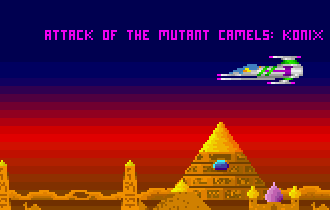 I am very excited to share the news that the first releasable build of the Konix Multi-system Emulator written by a programmer called Savoury SnaX has been released and is available by clicking here.
What's an emulator without out something to run on it? Well, Thanks to an amazing stroke of luck and the blessing of it's author, Jeff Minter, we are able to include an early (but playable) version of Attack of the Mutant Camels 1989 for the Konix Multi-system. Also included in the zip files are a few test programs we also stumbled over, not as exciting as AMC'89, but still interesting.

Konix ROMs (including Attack of the Mutant Camels '89)
Finally, some example programs from the MSU Robocod era are also included. Check the README files in the Zips for instructions.
MSU ROMs
And you will need OPEN AL to hear the audio -
download the installer here
. Have Fun!
Attack of the Mutant Camels 1989 Found and Emulated!
18th November, 2012:
After all these years, and with the kind permission of it's creator, Attack of the Mutant Camels 1989 for the unreleased Konix Multi-system has been found AND emulated.
The Emulator programmer has produced this video of the emulation running on his computer. Shortly, once he is completely happy with the quality of his emulation, he will release the Emulator and along with Jeff's permission we will be able to have a copy of the game and play it ourselves.
This is astounding and is a very significant development. I am, needless to say thrilled!
Featured in Retro Gamer!
27th October, 2012: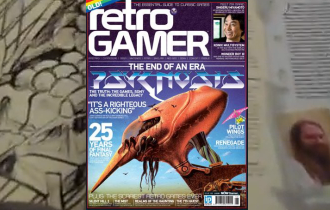 I am in the pages of Retro Gamer issue 108
It's been a long road, there have been many developments in the last couple of years, and the events of the last few months have only helped heighten the status of the project.
This article is a nice way for me to take a break for a moment with a cup of tea to look back at the seemingly never ending quest to play a Konix Multi-system Game and where I started and where we are now.
Thanks to all who made it happen, it was a thrill being involved and I highly recommend you go and buy a copy today!
Konix Power Chair Found!
2nd October, 2012:
There had to be one!


After all this time I can finally bring news of the existence of an actual Konix Power Chair.
I have been contacted by someone who wishes to remain anonymous who has in his possession a real Konix Multi-system Power Chair. I have seen a picture that proves this is the real deal.
Read more here
Older news: