Content
Interviews
Click a photo to read one of the exclusive interviews
Wyn Holloway - Konix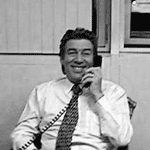 Wyn Holloway dreamt up the Konix Multi-system, he designed the controller and Power Chair and ensured it had the best electronics a console could have had at the time. He saw the machines rise and decline, only he really knows for sure why we aren't all playing Multi-systems to this day.
Find out Wyn's version of the story here, it's a story that includes success, conspiracy theories, some great name dropping and has some interesting elements I'm sure you won't have heard before.
Interview:
Slipstream
As a boy of 16 years old I was really interested in the Multi-system - I desperately wanted one.
Wyn Holloway
You and about 4 million other people!
Slipstream
How did you come up with the idea for the Multi-system and the Power Chair?
Wyn Holloway
I had the idea of the Konix Chair, when at the time, all the joysticks up until then were just stuck on the table, nobody had any tactile feedback, it was just a "There it is, get on with it" type of thing, do you know what I mean?
It was the same with light guns, they were just rubbish. They expected the player to use their imagination too much. I felt that any peripheral should stimulate the imagination, and that's where the whole idea of the chair came from, so I was working on it in my garage, and of course with design, the major thing is ease of use, it's got to be user friendly, it's got to be reliable and it's got to be cost effective. It's no good making a chair like that and trying to get 3000 pounds for it.
Slipstream
Yes exactly, the arcade machines had complicated hydraulics in them and you could never dream of putting that sort of technology in an affordable domestic product.
Wyn Holloway
Yes, so I ended up working on it on those criteria, that it had to be easy, it had to be well made, it had to be easy to put together. What we called the power pod with all the electronics in had to be a sealed unit, so that no family member or baby or anything could get injured by it, and it had to be easy enough to be carried home, it had to either be in two or three pieces that were easy to be put together.
Slipstream
So did the idea for it all come at the same time, the Slipstream controller, the Chair, the Light Gun?
Wyn Holloway
The controller came when I was sat at my desk in the office, I had one of those swivel chairs. I was sat on that, at the time I was reading an article, I think it was in a Commodore magazine or something, and it was saying that simulators - whether it be flight or car was something like 60% of the market, and at the time there were a couple of motor bike games coming out, so I sat and started sketching and I thought well, if you have a steering wheel... and then that could clip... and it could do this and then turn into a flight yolk... and then you could rotate it and it could be a handle bar for a bike.
Slipstream
I think that was one of the most impressive things about the design, the combination of the 3 which meant that you didn't have to buy a separate controller for each mode of use.
Wyn Holloway
Yeah, so I was sat there with this design, and I had to modify it slightly so that when you were in the flight yolk mode that when it was turned into the handle bar mode it would look very much like a motorbike handlebar. It wasn't %100, but it was good enough. Then I was sat on the chair and I thought wait a minute, the chair's taking up about 3 foot by 2 foot 6 and I thought "You could get a chair to operate in that space", I could get roll, pitch and yaw. And then you look at a swivel chair and it's pivoted on a 1 inch bar. No matter what weight anybody was, they know at what point they can move in the seat to get it to tilt back on them, it's all around the pivot point. So I thought Hmmmm... So I started thinking about the chair then, so I designed part of the chair in the garage and in the company as well, and one of my engineers Robert Kent was working on it with me, and I thought if I can get the pivot just right, the amount of pressure to actually move a body would be very little because you're balancing on a pinpoint.
Slipstream
Yes, it wouldn't take much to topple something balancing on a pinpoint.
Wyn Holloway
No, so then I had to incorporate the screen or monitor. So we actually used the monitor as a counter balance. It meant then that we could bring the pivot point slightly forward so it made it easier to get in and out of the chair, we could then build in the left and right rudder if it was the airplane or the brake and accelerator if it was the car and the same with the motorbike. So we got it to that stage, and I actually bought two Black and Decker drills and that was powerful enough to work the chair.
Slipstream
So could this have supported anyone's weight?
Wyn Holloway
We calculated at the time on the chair that we made that it was up to about 21 stone.
Slipstream
That's a hefty gamer!
Wyn Holloway
Yeah. The biggest problem we had was that because it was so balanced, we needed to have a lock so that when you stopped playing, the chair actually locked in place so that you could get in and out. So I came up with the idea for a seat belt.
Slipstream
I don't remember seeing that in any pictures of the chair.
Wyn Holloway
Well, no it wasn't but it was a safety thing we were going to add, it was an over the shoulder, proper military looking thing like a proper racing car type and you'd have the center buckle where the three of them would come together and that was your power.
Slipstream
Power? Oh, Ok, so when you clasped it together, it gave power to the chair
Wyn Holloway
Yes, it was only an earthing contact, but until it was made it meant that nobody could release the chair so it meant nobody could get in or out of it. The buckle was too big, we were thinking of lazy sods you know buckling it together and just leaving it there. It was so big you would have to undo it to get in the chair and you'd have to do it up to free the chair.
The beauty of the chair was that it was so easy to make - I could make them in my garage. The only part I'd have to go outside for was the upholstery. The material was hard-wearing, light, easy stretch and you could put some nice designs in it. It was a vacuum formed space age looking blue snooker material. It was moulded to give the effect of oxygen pipes and control panels.
Slipstream
So when did you decide that this should be made into a games machine rather than a collection of peripherals?
Wyn Holloway
It was on day one.
Slipstream
Oh, it was always going to be a games machine?
Wyn Holloway
No no, the flight yolk and everything was going to be a peripheral, then I read Ace magazine and the Flare one was in it and I thought Hmmm. I always believed if you had a clever enough brain and a good enough engineer you could design specific chips for graphics, you know make the game better, and when I saw the Flare one I was pretty impressed. I thought that's good, and Atari was going to use their technology for their next machine.
Slipstream
Yes, I believe Martin Brennan had helped design the Panther at that stage for Atari.
Wyn Holloway
Yeah, so I got in touch with him, he came down, we were talking, he loved the idea of the chair. So we then sat down and decided on a Flare two, we designed the next generation, because the Flare one was more or less cops processors. It was just a row of them on the board, so the expense was very high. I spoke to LSI through a contact of a friend I had in America and we were going to design the chip.
Slipstream
That'll be the Slipstream ASIC then?
Wyn Holloway
Yes, so that's what happened, so Martin took all these processors we then added other games functions. We used the Flare one as a test bed and went on then to the design of the ASIC, while we were doing that that's when Jon got involved.
Slipstream
John Mathieson of Flare?
Wyn Holloway
No, well John Mathieson was already involved, no, Jon Dean and a guy called Jeremy cook I think Jeremy introduced me to Jon.
Slipstream
Who was Jeremy Cook?, it's not a name I've come across before.
Wyn Holloway
Jeremy was a chap who had a company that dealt with programmers and he used to wheel and deal - do you know what I mean? He was from Cambridge. Jon had a group of programmers that he managed and he got involved, and I'd like to speak to Jon if you could give me his details.
Slipstream
Sure I'll forward your details on to him if you like. What about Martin Brennan as well?
Wyn Holloway
Oh, I know Martins address, I used to work with him up until '99
Slipstream
That was at MSU?
Wyn Holloway
Yes.
Ok, so what happened was... Well I'm always a kid at heart, even my wife now keeps saying "For god's sake grow up" - I don't want to! I've got kids of my own now they're 16 and 13.
Slipstream
So I guess they're probably interested in all the latest games machines?
Wyn Holloway
Yes, they all have Xbox's. One of my sons has every games machine that's been out in the last 5 years.
Slipstream
Ah! A lad after my own heart, I've got loads of the damn things.
Wyn Holloway
He's got the first Xbox that came out then the 360, Nintendo's and Sony's. But he also loves the Konix Speedking, and he loves the chair, he's constantly going on at me saying "Dad why didn't you bring this out, It's brilliant" because there's photographs around the house and the attic and there's some websites out there that has bits of stuff on it.
Slipstream
Well, that's what I'm trying to do with this website, bring all the information together and find out the facts straight from the horse's mouth about why it never came out.
Wyn Holloway
The thing is, what happened was we went to the show at Earls Court, I must admit it blew me away literally, when you have… what's the big toy store in New York?
Slipstream
Err, Macys?
Wyn Holloway
No no no, is it Macys? Sears?
Slipstream
I'm not sure...
Wyn Holloway
Anyway the big toy store. The buyer was a woman and they had launched Nintendo a couple of years earlier and they were the ones that had made Nintendo in America, literally. It was a very clever launch, they would only deliver a few machines so there was always a queue.
Slipstream
That's very cynical…
Wyn Holloway
Yeah, so it ended up that it was in the press that there were big queues. Again it was the robot, do you remember the little robot that came out with the system?
Slipstream
Ah yes, ROB! Very cute, but ultimately useless.
Wyn Holloway
Yes, it didn't really do anything, and that's what it was, it was a sales pitch, anyway, she talked. We had a box, and you would put your business card in it, you would write down on the back of the card how much you thought the chair would retail for and the nearest one would get a crate of Dom Perignon champagne, 24 bottles. Dom Perignon was about 94 pounds a bottle. There were people cueing up, we had 3 chairs there. People were cuing up to use the chairs. We only had a couple of pieces of demo software. And we had companies coming in - flying in from Europe!

The second and third day. We had people phone us up saying "Can we come and see it? We'll fly in tomorrow". We had people coming in from America. This woman from the toy store - at the time her company had the largest mail order catalogue in the world, I think they had 24 million customers. It was an art form to them, if you put something in their catalogue they could tell you to within half a percent how many they would sell, America is so regionalised, stuff would sell in California that would never sell down in Texas. So they know where this stuff would sell. But the ultimate thing was in their Christmas catalogue they had what was called the wish bin which was the center pages, and everybody would pay a fortune to be in the center pages of the Christmas catalogue where the best products were. They offered us; no they said that they would put this product in the center pages.
Slipstream
How much were they asking for that?
Wyn Holloway
Nothing. They wanted the product, but to take the product they had to have as stock, 50% of what they calculated they would sell through the catalogue, it was their "law". I said it's going to retail at $499 and the guy said "Ok you're not listening to me, I want to make 30 points" - meaning they wanted a discount of 30 percent, "And I want to sell for the first year at $999 and we'll come back tomorrow and we'll have the figures that we calculate that you will need to manufacture and store we'll give you an LC".
Slipstream
A what?
Wyn Holloway
A letter of credit, we said yeah, Ok, so the next day they came back and we talked, and they said we calculate that you will need to manufacture and store for the first shipment 720,000 units!
Slipstream
Wow!
Wyn Holloway
At the show we ended up with 2.8 Million pounds worth of orders all backed by LC's. Our financial investors at the time were at the show, they just couldn't believe the response. After the show we had a meeting back at the office at Konix, with the Bankers going through everything. In their wisdom, they said that the project was so big that the only way it would work was to sell it to the Japanese. I just sat there and I said "What?"
Slipstream
Is that because the Japanese were considered the best manufacturers?
Wyn Holloway
Well that was British investment for you wasn't it? They thought that the Japanese would be the best choice for making it. Why should we worry about selling... make a few bob off of it?
Slipstream
Had you considered outsourcing the manufacturing of it to China?
Wyn Holloway
No no no, at the time I was manufacturing the Speedking joystick in the UK at Konix, and we were producing a product. Other joystick products - being manufactured by the Japanese I might add - were suffering from an average 34% failure rate, and we were less than 0.5 %. We gave a 2 year warranty, the Japanese were giving 60 days. We actually sold in the region of about 6 million pieces into America, we never had a one joystick returned, our distributor said that there were so few that it would have been so expensive to ship them back that he just put them in the bin. He didn't actually put them in the bin, he sold them to a company who repaired them and sold them on again! Then Lucas got involved.
Slipstream
George Lucas?
Wyn Holloway
Yeah, Lucas had a software company.
They got involved because they thought it was incredible and with a few modifications they could adapt it for Star Wars.
Slipstream
I heard a rumour that they were involved at some stage.
Wyn Holloway
It was more than rumours, we spent 3 months negotiating a contract, it ended up that we were in California for the finalising of the contract, I had my legal guys with me and we had American attorneys involved, and they had theirs. There were like 6 British lawyers of ours and 24 of theirs. And it turned up that Sony were involved as well.
Slipstream
Really, that's pretty significant.
Wyn Holloway
Yes, it turns out that Sony and Lucas were very much linked in the eighties and nineties. We went through all of it, in the final version there was one little clause missing and the little clause was the money. After all this time, they decided they didn't want to put any money up front. So I said how is this going to work then? So I told them - you know the situation, from day one not to waist your time or ours, there would have to be funds to cover. You want to sign over the license, so that will cost money for the bank to sign it over and now you're not willing to do that?
Slipstream
So they would license it from you then? You would still sell the Multi-system and they would make their own Star Wars version?
Wyn Holloway
What was going to happen was that we would make it together, I.e. Sony were going to make it. Lucas would launch it in America and I would launch it in Europe. The same with software. All software was interchangeable we would sell worldwide and the same for the American software. That's the way it was going to work.
Slipstream
Hmmmm, interesting! You had an internal electronics department at Konix. Why didn't they design the innards of the Multi-system, why use the Flare one?
Wyn Holloway
They did, we had it all, it was all designed, with Martin designing the ASIC, Robert and the other lads in our R&D department designed the board and the circuitry and everything else. It was all designed and ready to go into production. It was designed in kit form so it all clipped together. We even had an air pump.
Slipstream
An air pump?
Wyn Holloway
At the side of the monitor pointing to the front - you had jets of air so that as you accelerated on your bike you had wind blown on your face.
Slipstream
Ahhhhh, I see where you're going with that.
Wyn Holloway
So as you rode your bike you had blasts of air. We had speakers mounted in the chair and the front of the monitor so that when you passed a car the sound went from the front to the back. We had a helmet for flying games with a sort of a trick... It looked like a head up display on the inside of your visor. It was fairly effective; It was just using lighting technology.
Slipstream
I've read about the skiing adaptor and the exercise bike add-ons
Wyn Holloway
Yeah, we had a ski game with a pressure sensor so that it was very accurate and worked out how much pressure you were applying.
Slipstream
Did you come up with any other novel ideas?
Wyn Holloway
We had a rowing machine; these were back in the eighties, it's only now that these sorts of machines are coming onto the market for the big gyms. We had sensors on the handles to get your heartbeat and put them on the screens etc. At the time a lot of engineers were looking at tactile feedback projects where you could move the joystick with your brain etc. We were using similar technologies to get feedback for your pulse and the like. It was endless if you think about the sort of things you can do. At the time it was a toss up between a cartridge and a disk you know floppy disk. CD's were only just coming onto the market. Nintendo had gone with the cartridge, and we looked at it and we felt the Nintendo principle of the royalties and the cost, was going to stop the kid in his bedroom from getting into it. Look at the Darling brothers; they came from their bedroom - that would never happen today.
Slipstream
Yes there was a great tradition of British bedroom developers back in the day.
Wyn Holloway
Yes exactly the same thing in America, a lot of the kids in America too. So I thought that's ridiculous, if we can get the game on a floppy disk, but we had to protect the Ocean's and the U.S. Gold's and this lot, and Lucas so we added laser etched.
We had a program in the reader which would read these laser etchings which would read the etching and could prevent it from loading. Even if it was there but it was wrong it wouldn't load it. There were millions of permutations. On the principal that what ever you came up with there was someone clever enough to be able to overcome it. So we tried to make it as easy as possible for the kids in their bedrooms to write programs for the machine.

So, we ended up doing all that stuff and it was absolutely brilliant the chairs worked perfectly, you know these Black and Decker drills, they just went on and on and on.
We then contacted a company in China, at the time the Chinese had two skills I wanted, one they made very cheap bicycles; the frame of the chair was tubular and it had to be light enough to carry, and the other one was electric motors. The Chinese had some of the best electric motors in the world. They could refine it and make them indestructible. And they were cheap.
But I tell you what frightened the life out of us. When we made the first chair I invited the people of the production line to come and sit in it. It frightened the life out of them because we had a 5% tilt on it, 5% doesn't sound much does it? When you sat in it you felt like you were going to fall out. So we adjusted it to 3% - that was just enough. 5% had you putting your hands out to stop yourself from falling. One of our female employees actually screamed. We didn't think 5% was going to be a problem, but because where the pivot point was you had to get it as close to your belly button.
I don't know if you remember when you got into the chair you had a bulge that you put your legs around, that was the pivot point. You couldn't sit on top of the chair - that was too dangerous. You had the roll, pitch and yaw, just like a joystick, and that's how I designed it, just like an upside down joystick. The electric motors were on threaded bars that pulled you left and right and up and down. We had a demo of a flight simulator which we never actually got out, no one ever saw it. In a dog fight it was brilliant. One of the engineers came up with the idea for a pull-out silk screen which came from the back of the chair and clipped to the monitor.
Slipstream
Like a cockpit canopy?
Wyn Holloway
Yeah, so that it blacked you out and engrossed you. But I was a bit worried about people feeling claustrophobic or having epileptic seizures. We had a lot of gadgets that we were going to build into the chair, like the air vents and sound and a head up display connector. It is a shame, and even today there's nothing out there like it. And now the graphics today are astonishing. I've thought many a time about how I would have altered the design.
Slipstream
To me the Multi-system is still a viable concept; you could put whatever electronics you like in it and it would be just as valid today.
Wyn Holloway
You know it was the first games machine that was on the cover of EVERY computer magazine. There was even a magazine in Japan that had never published a western product before. It was on the cover and it had four pages inside. The punch line was like "Who do they think we are… that a joystick manufacturer in Wales has the ability to design something like this?"
Slipstream
Did they think it was a hoax?
Wyn Holloway
Yes, they thought it was the hoax of the centenary!
Slipstream
So what happened then Wyn? Why did we never see it?
Wyn Holloway
You see that was it, it got so big that big industry didn't want it.
Slipstream
Huh?
Wyn Holloway
When they don't want it, they don't want it. Our bankers just all of a sudden said "No we can't support you any more" and we had LC's, letters of credit, guaranteed money... Toys'r'us in the UK wanted 50 thousand units. With a letter of credit for 50 thousand units...
Slipstream
Did you have a global prediction for how many units you were going to be building?
Wyn Holloway
Well, What's his name from Atari - who was the guy who owned Atari?
Slipstream
Jack Tramiel?
Wyn Holloway
Yes, Tramiel came to the show and we sat and talked and I said "Have you come to do a deal?" He said "Listen, if you get this thing to market you'll be able to buy Atari with just your coffee money". He said "I saw this thing in the press and I had to come, I just didn't believe the photographs or anything". He said "It's incredible".
Slipstream
I don't think there's been a machine before or after that managed to captivate people so much
Wyn Holloway
We had millions of orders, not 10 of thousands, millions and that's what frightened everybody, it was just so so successful and at 500 pound for the chair and console together there was nothing out there that could compete. At the time the ST was 325 pounds the Amiga was around the same price,
Slipstream
I still can't get my head around how it can be so successful and still not get made.
Wyn Holloway
What you've got to remember it's that the Japanese were very powerful, one of the top banking groups were bought out by a large Japanese company so they disappeared. Another backer was going to be Ferranti. Adrian - the son got involved and Ferranti (who were one of the largest electronics corporations in the world) were going to fund the Multi-system. We met and he said "Sorry Wyn I'm going to have to withdraw, we have too many Japanese customers". I'll never forget the owner of Ocean software, we were talking at a show and he said "What have you done, you created the greatest machine ever but you never made it. We could have made millions off the back of it." He was shouting at me. I said do you think I've done this deliberately? I've spent over a million pounds! If it had launched, I'd have been Gates.
Slipstream
You'd have been Gates?
Wyn Holloway
I'd have been as rich as Bill Gates.

Shortly after, Sega came out with a plastic chair, our patent attorney had a word with them so they couldn't make it powered. We had the best design, you couldn't make a hydraulic chair, it was too expensive, think about it logically in terms of insurance, and you'd have a 6 year old sat on a bloody hydraulic piston. It's not going to work, not in mass production, not in the home. You couldn't do it. At the end of the show the guy that won the champagne's estimate - the cheapest - of how much the Power Chair would cost was 2999 pounds.
Slipstream
Miles off, He didn't deserve the champagne!
Wyn Holloway
Well, it was just a gimmick - we just wanted the PR. We got loads! We were astonished. We were on CBS, CNN. We had people phoning up in America saying you've just been on TV! I went to Vegas in the January, after that show, I was in the Mirage Hotel. I was there with the US distributors and Jon Dean was also there. We had loads of meetings arranged. We were sitting in the bar and there was this group of guys and one of them comes over and talks to Chris and Chris said "Yeah that's Wyn Holloway" and the guy went back to his mates and these guys came over to the bar, got on their hands and knees and worshiped me. One of them kissed my shoes. You ask Jon about that. It felt like it's the greatest product ever invented.
Slipstream
I'm not surprised, there was almost a hysteria over your product. It really is such a bitter sweet story.
Wyn Holloway
Oh it's terrible. I often look back at it.

This is how ridiculous it was - If they said in the beginning let's not put any money up front, let's do XYZ then we could have done that. But the fact that it was there and it was there right up until the final draft it meant that we couldn't alter it. Because we had the bank supporting us, the bank had to agree everything in the UK, and the bank refused - they said no and there was nothing we could do about it. We were looking at a 250 million pound contract - that's what they calculated it'd be worth to me over 3 years.
Slipstream
Phenomenal!
Wyn Holloway
And it was just unbelievable; it's still achievable, with the current technology and designs etc. It's a lot easier to make now.
Slipstream
You're not hinting at a return are you?
Wyn Holloway
No, no, no, no. I'm retired now. I got involved with some land and god knows what. I'm still always coming up with little ideas and I get contacted occasionally by people and asked to do things.
Slipstream
Can you explain how you came to work with Martin Brennan at MSU?
Wyn Holloway
Martin worked with me. In 1991, a Chinese company approached me - they'd seen the Konix Speedking and they asked me if I'd design a computer for them, so I said OK. I got Martin involved and utilised the Slipstream technology that I'd paid for so I thought might as well use it. So we designed, a computer and at the time, MPEG was just becoming popular - so we incorporated MPEG.
Slipstream
That'll be the WynPEG chip then?
Wyn Holloway
Ahhhh! You know your stuff!
Slipstream
I've been doing lots of research!
Wyn Holloway
We then designed a machine for them, that would play games, do karaoke and watch movies. We did a Chinese converter. We took out 12 - 14 programmers and we taught hundreds of Chinese programmers. And while doing that I thought about the internet. So Martin and I designed an internet set top box.
Slipstream
Again called the Slipstream
Wyn Holloway
Yes, because of the chip. We decided to use that. So I wanted a box that would plug into the back of the TV for 99 dollars.
Slipstream
And that got made and sold?
Wyn Holloway
Yes, it did, the Slipstream technology had long gone since then. When we did the flare chip, we were talking about 5 micron technology. The last one we did was 0.3 microns. What we did originally you could put on a bloody pinpoint now.
You give Martin an idea and sit and talk and it just expands, and the same with Robert Kent. Robert was a great designer as well. We used to have brainstorming sessions, I used to call it Silly ideas time. I'd say "What about…" and we'd sit and talk about them. Then we went public in America. And then everybody was making money out of shares, Martin made quite a lot, So did Robert.

I found running the company became too political in the end - everyone wanted to become the chairman.
Slipstream
So did MSU exist before you?
Wyn Holloway
No I started it in 91, just me and Robert Kent, we set it up in Cardiff, it went on and on and on.
Slipstream
The Multi-system controller went on to be used as a PC controller.
Wyn Holloway
Yes, that was a deal I did with a company in China
Slipstream
So it wasn't you as Konix who made them then?
Wyn Holloway
No, MSC, Multi-system China - which I owned 80% of, of which I never had a penny...
I kept getting invited to the annual board meetings held on Christmas day. They licensed it off us in 94. They gave us a million pounds. That helped to fund and promote the internet project. I was a crazy Englishman (although I was Welsh) I went off to Vegas again with an internet set top box, and it was in Bill Gates keynote speech where he said that there is this crazy British company in the hall who are selling an internet set top box. And who in their right mind would want to use the internet in his home?
Slipstream
Yes, Bill made a bit of a blunder not predicting the success of the internet.
Wyn Holloway
Yeah, I was the one he was making the blunder about. We developed a nice sleek black box. Did some work on the interlacing and flicker fixer so the display looked good. We did quite a lot of work actually. Our browser was only 512k. There were very few websites we couldn't access. At the time there were websites the PC's couldn't access that we could. We could even tell you what pages people were browsing. If you were a shop keeper you could have a low cost camera to monitor the shop remotely. Or as a baby monitor at home. We had a modem which you plugged the modem in and you had an adaptor over the power lines that you could fit on any TV in the house. When I design something I try to utilise everything in it to make it as versatile as possible. It was an interesting ride... I miss it, I still get loads of ideas and I see how it can be better. I look at what my son's got, the games and so on and it hasn't really moved on that much.
Slipstream
It's interesting you should say that, as Nintendo are bringing out a machine this year, its codename was ' revolution', but now it's called Wii, where it's all about the interactivity with games, you have a controller like a remote control that houses an accelerometer etc. to get feedback. Pitch, Yaw and so on. It's taken this long from your original ideas for Slipstream to have a complete product that makes a significant attempt at changing or improving the way we interact with games.
Wyn Holloway
Well, I think that's too little too late, you look at the Star Wars movies and The Matrix, those are the sort of things you've got to be looking at. Not accelerometers or bloody voice recognition, that's long gone. Looking at my sons it's still the 'Numb thumb club'. You look over their shoulders, and watch them when they play the games - they still lean to the left when banking to the left. Even more so now, the graphics are so much better.
Slipstream
There was talk of a Konix 2 based on the TXE system for TXC the Taiwanese company? A 32 bit CD based machine. Can you shed any more light on that?
Wyn Holloway
Yes, what happened was, money overtook. We went public; TXC had 30% of the company. They saw an opportunity to make a large amount of money very quickly without manufacturing anything. We also did a PC. A games machine
Slipstream
Did you?
Wyn Holloway
We had a PC games machine with a CD Re-writer on it. The software was done by an American company, they came up with a piece of software where you could load in any game and it would be compatible. With a programmable controller.
Slipstream
Did that ever get released?
Wyn Holloway
For TXC in Germany it sold about 50,000 And then low and behold a couple of years later a small firm in California… WebTV… bought out a similar thing, but it was dearer than ours as they used Microsoft licensed product. But MS tried to stop them but they weren't infringing anything so they won. TXC made money out of the share side.
Slipstream
Have you got any photos or sketches you could let me have copies of?
Wyn Holloway
No, I haven't what you see it all happened so fast, it was like a dream, I have to be careful what I say and not mention names.
On the Friday we were talking to the company about the launch of the Multi-system, we got a call on the Saturday and I was told to be careful - things were happening. Monday morning I went in to work and there was a Receiver there. I asked him why he was there - he said the bank wanted the overdraft paid off immediately, I said why? We were trading, we had a full order book and we had a normal overdraft facility… but because it was September - we were manufacturing for the Christmas rush. We don't start selling 'till October - and the Bank would always bridge us for the Christmas rush, but by the end of November we could pay it off.
We used to sell about 2.5 million Joysticks a year. We were manufacturing about 50 thousand a week. We had to manufacture a lot of product to have enough stock to supply the rush times. We were employing over 200 people.
But that was it, I was asked to leave, and all they were after was the Slipstream. Unbeknownst to them and honestly I forgot, that when I came up with the idea for the Slipstream, I went to protect it and the patent attorney said keep it in a separate company from Konix. So we set up another company to put that design in. Even I had forgotten, when the banks found out the Slipstream did not belong to Konix, and this company no names mentioned would buy it back immediately from the bankers no names mentioned. The bank accused me of fraud put a private eye on me and my wife. It was just a complete clerical cock-up that I still owned all the patents. The bank ended up with egg on its face. I ended up with nothing.
Even now I sometimes get a letter through the football club or my Solicitor etc. Thanking me for the Speedking. I forget sometimes how much some of these things meant to people like you. At the time it was like launching a hit record. We were inundated. We had to change our phone number at home. The post man was coming with sacks full of stuff. From that one article in ACE magazine, we had 132,000 pounds in deposits. We weren't even advertising that we were taking deposits (which we had to return). We couldn't believe it. People were sending 25, 50, 100 pounds.
In deposits alone, there we over 200 thousands machines expecting to be made.
The best and worst thing that happened was going to that show, at the end of the 4 days, we are in every magazine and on every TV show. There were American journo's who said that we could have been on the cover of Time. They felt that we'd created so much excitement that we could get the front page of Time magazine. But that was the downfall; we then hit the radar of all the big boys.
What happened with the Speedking joystick was - Konix was too small. We hit some trouble with Spectra vision and within 18 months we were bigger than them. At the time it was the Japanese and Americans who controlled the peripheral industry. Look at Sinclair he hated the Japanese; they did everything to stop him. It just created too much publicity - and it wasn't only in the press, it was publicity amongst within the Macys and the Sears. These buyers who were talking about our product were going to the large Japanese companies saying "You ought to see what we've seen" - that's the last thing you want your competitors hearing.
Slipstream
Final question, have you any prototypes sitting around in your loft that could one day see the light of day?
Wyn Holloway
No, it was a strange thing, they disappeared in the matter of a day, when we found out that we owned them, we went along to collect them but they had gone, they were missing. They just disappeared. The week before this happened we were made an offer from a very very large Japanese company that I could refuse.
Slipstream
You could refuse?
Wyn Holloway
Well yes, because they were asking me to doing something I wasn't prepared to do. They wanted me to put the company into receivership, they'd write off all the debts, set up another company and sell the Konix Multi-system. At the time I thought I had the banks support. So I didn't want to do that. I also wouldn't do that to the companies who had supported me for the last five years. All they wanted to do was to get the machine in their name and I'd get shares, and that was a week before it all happened. I said no and of course a week later everything happened.
Slipstream
Is that a company you can name?
Wyn Holloway
No - I don't want to be sued!
Slipstream
Thanks very much for talking to me Wyn, It's been fascinating.
Wyn Holloway
No problem, if you want any more just ask me.