Content
Interviews
Click a photo to read one of the exclusive interviews
Michael Baxter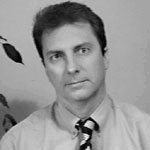 At the time, everyone knew about the Konix Multi-system. Even now people remember it with either fond recall or disdain - either way, they remember it. This guy must have done his job well, as the PR guru, Michael plied his craft and ensured everyone was talking about the product. He also went on to work with Wyn at MSU. He would have had to have talked to Journalists to ensure the company line was towed and he would have seen Konix from the inside out - warts and all.
Interview:
Slipstream
I understand you were working for a company called Solution PR.
Michael Baxter
That's correct, yes.
Slipstream
Konix were one of your clients, what can you tell me about your involvement with them.
Michael Baxter
We were their PR Company and had been for two or three years before the Multi-system started being talked about. When we started representing them, they just produced joysticks. Their flagship product was called Speedking and we generated quite a lot of publicity for them. We produced quite a high profile campaign for a joystick, not exactly the sort of product you get a lot of publicity for, but we did, we put quite a lot of effort into it and came up with some fairly original promotions and it became quite a high profile product.
Slipstream
I understand Konix weren't the only company in the games industry you represented?
Michael Baxter
Well, they were the only joystick company. But I did work for loads of computer games companies back in those days... We launched Codemasters to the press, perhaps the most well known computer game we promoted was by a company called Palace software called Barbarian, which had some quite glitzy packaging, It had Maria Whittaker who was a well know Page 3 girl at the time.
It had a shed load of publicity at the time.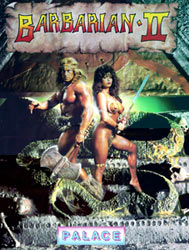 Barbarian II...
Slipstream
Yes, I remember - basically a fighting game where you had to lop people's heads off.
Michael Baxter
Yes basically, and it had a lot of packaging - it was quite interesting because for the packaging we got Maria Whittaker and some big bloke with muscles - I don't remember how we got him, at the time Maria was really famous but the bloke went on to be even more famous - he was Wolf from Gladiators. If you've got any press cutting from that game and you look really close at the two people you'll recognise him. I didn't even realize although I met the guy, I didn't even realise it was the same bloke from Gladiators until someone told me!
Solution PR was a company that specialized in the computer game industry - we were pretty well known, we represented quite a few clients.
Slipstream
I'm predominately interested in the Multi-system - as a young lad of 16 years old when it was due to be launched, I fell hook line and sinker for it - quite a few of us did. I want to get some resolution as to why it never came out. I've read several stories.
Michael Baxter
It never came out because it was an incredibly ambitious thing to do. The games console market was very competitive - it was very tough. It would be even harder now as it's dominated by such massive companies. It's inconceivable that some Joystick company could compete, but even then it was a very tough call.
The person whose baby it is was Wyn Holloway, who was a very charismatic person, possibly the most charismatic person I've dealt with actually. He made a fantastic attempt at doing something that was incredibly close to pulling off something which, looking back in hindsight, was possibly impossible.
Slipstream
Do you think so?
Michael Baxter
Well, you could say that if Wyn had done a deal with this company or that company... I don't know what people have said to you, I dare say some people have mentioned potential deals with large American software companies connected to film studios. It could be argued that he should have done those deals, but what you've got to realise is that someone who wasn't Wyn wouldn't have got the product into that position in the first place.
You could easily criticise Wyn for not doing this that or the other, but what you've got to bear in mind is that he did an incredible job to get it so close.
It would have taken a very rare animal indeed to actually pull that trick off. Although Wyn was very charismatic he wasn't quite that animal. Although that's not a criticism - I think there are very very few people out there who could have done it.
Slipstream
I have already interviewed Wyn and thoroughly enjoyed talking to him, I found him to be a really lovely bloke.
Michael Baxter
He's very charismatic and he really drew enthusiasm into the product and he used to tease people rotten. I remember at the PC show and he got a load of software houses to sign Non Disclosure Agreements while he told them about the product, but of the industry as it was in those days, the moment you tell someone not to tell anyone about it, the first thing they do is tell others about it, so within days the whole industry seemed to know about this product. I suspect it was a deliberate ploy by Wyn to tease it into the public's eye as it were.
And in the press they wanted more; The magazine that pushed it first was ACE who did a massive promotion on the front cover, although interestingly enough Wyn wasn't particularly happy with that promotion and they had a bit of a fall out over it - I think he threatened an injunction. And they changed the editorial in the end.
And that created a massive publicity and all the other media wanted to follow suit.
I think in those days the computer games industry didn't have a high profile - it didn't have anywhere near the profile it has today and it was quite difficult to get both media and investors outside of the industry to take products in that industry seriously.
There was a feeling going around in the mid to late eighties that computer games were on their way out - that they were just a passing phase like the Hula Hoop.
Slipstream
Really?
Michael Baxter
Absolutely it was! As someone who had a PR company at the time, I can tell you my bank manager thought I was completely stupid running a PR business specialising in games. He spent ages explaining to me why the industry only had a couple of months left to exist. And certainly the national media would all immediately say "Oh video games - that's yesterday's news". So that was the perception and I think it was a perception a lot of financial organisations had as well.
If you looked outside of the UK, in America Nintendo had already become a household name. But back then in the UK it was considered to be a very niche market with no real future by a lot of people, wrongly so, of course wrongly so, but people in the industry including myself used to get very frustrated trying explain why that view was wrong. But it was a view that was very entrenched, it was a view that was very difficult to deal with.
Within that environment Wyn's task of raising money was very difficult despite having a great product that if, it had launched, would have done better than Nintendo and Sega, the financiers would have said "So what, it's a product that's going to do better than Nintendo and Sega, who are these Nintendo and Sega anyway?"
And that was kind of the attitude back then. Because Nintendo and Sega hadn't really taken off back then, there was still a view that a games machine had to have a keyboard for it to be successful.
Slipstream
As a more technically enthusiastic consumer - I was never really interested in consoles back then as I believed I had the best of both worlds being able to program my C64 and play commercial games.
Michael Baxter
The Spectrum and C64 had peeked and the Atari ST and Amiga were the machines of the time - although they weren't so successful, the industry was in a bit of a quiet patch anyway, there were a lot of software companies chasing too few consumers. It was quite a difficult period to make money unless you had something really new that they were doing like Ocean who seemed to be irresistible back then. In that environment and you turn around and say "I've got this games machine that's better than the Nintendo and Sega", which at the time it was - actually I think it was a lot better. And it had that brilliant concept of flight yoke, steering wheel and handle bar. I can remember the first time it was presented to the press the journalists in the room couldn't wipe the smile off their faces, because it was such an original idea.
Slipstream
Were they wry smiles?
Michael Baxter
No… it was more like when you watch the film 6th Sense and you have that 'a-ha' moment when you realize Bruce Willis is a ghost - and you kind of smile to yourself thinking "Shit, why didn't I realize that earlier?" The penny dropped when they realised how clever it was. It was a knowing smile.
But that didn't translate into financial circles. Which is why Wyn had to look outside of the UK to get funding. It's sad really that British financial institutions couldn't have contributed to a phenomenal British success.
Slipstream
History is littered with moments where people haven't recognized the potential or talent in things.
Michael Baxter
Yes - unfortunately this isn't like the guy who turned down the Beatles and regretted it. Because it's an industry that changes so rapidly, the product's edge only remains for such a short time. And by the time some funding was raised the industry had moved on.
Slipstream
It was such a unique machine; do you think it needed a strong marketing push?
Michael
I think that it if had launched, it would have sold. The software was week, the software wasn't good enough, but I think the company would have gotten away with it. It was a chicken and egg situation.
You need software for the hardware to be a success - but you need the hardware to be a success before software houses are tempted to write for it.
Slipstream
A bit of a vicious circle really.
Michael Baxter
It is a vicious circle - and how do you break through it? You convince people that the company is going to be a success. The amount of interest from the media was such that regardless of what the software was like the product would have been a success and the software houses would have jumped over each other to write software for it.
There was some cynicism that Wyn was going to be able to raise sufficient funding to launch the product which in the end was what happened.
Slipstream
It seemed that Jon Dean did a great job of trying to get the best software he could for the machine.
Michael Baxter
Jon Dean did a fantastic job, he worked really hard and he put his heart and soul into it. He did a very very good job indeed. Jon back then used to say to me that he felt the software needed to be a lot better. And I think there was a feeling that Wyn didn't appreciate how important the software was, I think there was an element of truth in that - but by the same token, I think if the product had launched, the PR hype would have carried it through.
Slipstream
I'm sure the better software would have come.
Michael Baxter
Absolutely, it was a good product - it wasn't just the design, it was a package. In contrast with the other machines - remember all the other machines back then that had a mass following were 8-bit machines, and it was head and shoulders above them in terms of processing ability, sound capabilities and graphics ability and it was only a matter of time before software houses would have latched on. It would have sold, it would have sold a few hundred thousand units, and as a consequence software houses would have supported it and there would have been some very good games for it.
To manufacture several hundred thousand units costs a lot of money, normally in manufacturing the money has to be paid upfront - you know - do the sums, it's a lot.
And that was the problem.
There were one or two other things like the chair. I don't know how realistic that was; in hindsight I wonder if the chair was really ever a realistic product. In some ways it just seemed like a PR thing of course the press loved it. The additional funding to do that would have been quite phenomenal I think.
Slipstream
The consumers were certainly excited by the prospect of having it.
Michael Baxter
Fair enough, it was a good aspirational product. I think maybe the chair would have happened - I don't know. I think even if the product had launched and it was a success I think the chair would have been a long way off.
Slipstream
One point about the chair: they seemed to make a concerted effort to include support for the chair in every game - even bizarrely in the chess game.
Michael Baxter
I don't remember specifics like that - but I'd say that there was a lot of interest in the chair - but even in that dream scenario where everything went the way we wanted it, I still think the chair would have been a long way off. I think it's one of those things were perhaps it sounded better than it was. It was a nice thing for the press to talk about. There was the space issue for one thing - where the hell were you going to put a thing like that.
As a way of teasing the press it was very effective.
Slipstream
Were there any specific strategies or techniques you used to try to sell the Multi-system?
Michael Baxter
What I said to you about Wyn, he gathered quite a good team of people, he had a good bloke taking care of the distribution, Jon Dean, he had Flare. If I remember correctly Wyn had an idea for the design, and ACE did an article about the flare chipset. That's how it came about. And to be honest they were influenced by Wyn. Wyn was good at selling to everybody - some people's sales technique doesn't work with everybody.
He got a guy called Cliff Crowder - I can't remember what Cliff's role was now, but he was a good bloke, he was American and Jeremy Cook became involved for a while.
He had a guy Reg Silveter who was responsible for the design and packaging. And if I remember correctly I think I was the other person.
We used to sit in regular meetings, he had a team of people that really believed in the product but were all concerned about his ability to raise the funding.
Wyn convinced everybody that he would successfully raise the money, I think he got very close to doing it, but in the end it was a bridge too far.
Slipstream
It always seemed to come down to money - that was the explanation, but it never really satisfied me as an answer.
Michael Baxter
It was money - some people might talk about personalities and things like that, but ultimately the product never launched because the funding wasn't in place to manufacture it.
I don't think there was another explanation. You could argue that the funding wasn't in place because the British financiers just didn't get it, or that it wasn't in place because Wyn was too picky about who he did business with. There are lots of arguments you could make, but whatever you believe, there's no escaping the fact that if the money was in place - the product would have launched.

Slipstream
It's just so difficult to accept that this potentially incredibly successful product which seemed to be such an obvious hit failed to get the backing to manufacture it.
Michael Baxter
I agree with you, and that's why the people involved were prepared to be involved in it, If you'd had this conversation we me six months before it would have launched I'd have said that this product is too good and there's too much excitement in the industry for it not to happen.
A lot of people involved in the project lost a lot of money because when the company went bust they were owed a lot of money. In hindsight you could say that people were a bit lazy letting the debt get so high, but at the time people were prepared to do that because they could see the potential and they couldn't believe that the product wasn't going to launch because there was so much interest in it.
Slipstream
It's an old cliché - but we always see with 20:20 vision when we look back with hindsight.
Michael Baxter
Of course - absolutely.
Slipstream
Looking back at the machine, did it have any deficiencies that you needed to gloss over with the PR brush?
Michael Baxter
It didn't have any deficiencies back then, back in '89. Back then it was a powerful product and in comparison to the others I believe it was very good.
Later on when there was an attempt to re-do it under the auspices of MSU it wasn't so good any more - Technology had moved on it was struggling against some very powerful machines.
But in 1989 I think it was a very powerful product indeed. But 3 years later came the Playstation and it wouldn't have competed.
Slipstream
Martin Brennan told me that Flare's intentions were to design a system that was as powerful as the Amiga for half the price. I think they managed it.
Michael Baxter
Yes - I think they did.
Slipstream
Certainly, it's fair to say the Atari Jaguar struggled to compete against the Playstation and we all know of its ancestry.
Michael Baxter
Yes it did didn't it - it was the same people and I think that says what you need to know really.
Slipstream
MSU was quite a successful company in its own right.
Michael Baxter
Yeah.
Slipstream
Do you think the Multi-system would have been a global success? Or would it have been considered another eccentric British design?
Michael Baxter
No, I think it would have been a success globally - no let me re-word that, I think it could have been a success globally; I think it had the potential to.
A lot of interest was expressed in that product from a lot of organisations that weren't based in the UK.
Slipstream
How close do you think we came to the machine being manufactured?
Michael Baxter
6 weeks before that computer show I still thought there would be a chance that we could manufacture it, but by the time it got to that show, I think it was clear that it wasn't going to happen.
Slipstream
Would you say you enjoyed your time working on the project, obviously, despite the failure?
Michael Baxter
Yeah, I think I would say I enjoyed it. It was quite an exciting time.
It was an exciting product.
Slipstream
I believe Jon felt a little worried that the machine's failure could have reflected badly on him or that being involved in the project may have tarnished his reputation.
Michael Baxter
It wasn't Jon's fault it failed and I'm not sure it was anybody's fault. In the end it just got beaten by the overwhelming apathy of prospective investors.
Slipstream
There did seem to be some stigma that is associated with being involved in the project - it seemed to become almost a joke in the industry. But talking to Jon he now feels very proud of the hard work he put into the project and it's now something interesting to talk about.
Michael Baxter
Yes I think that's correct, you know what the Brits are like - they like building things up and knocking them down again.
Slipstream
Are you still working in PR?
Michael Baxter
No - I produce a newsletter called Investment and Business News which is a daily newsletter which goes out to ten thousand people at the moment, but it's a growing list which is a succinct and hopefully erudite summary of all the big stories in business and the economy.
Slipstream
So your job title would be?
Michael Baxter
Publisher I suppose.
Slipstream
Any thoughts to sum it all up?
Michael Baxter
It was a long time ago - almost getting on for 20 years, what I'd say is that it had terrific potential, it could have been a huge product, but ultimately it was probably just a little too ambitious.
Slipstream
Do you have any anecdotes or funny memories to share regarding the Multi-system or Konix?
Michael Baxter
I'll tell you how close it got to getting funding, both myself and Jon Dean had a very similar experience but with different people which is we went to see Wyn, and we were a little concerned about whether the funding would be in place and whilst we were present a helicopter landed in the car park with a prospective investor and that happened when Jon went to see him and that happened when I went there. And it was a different investor each time. Wyn didn't lay that on for our benefit. It was quite impressive when an investor turns up in a helicopter and even today it's still reasonably impressive when someone turns up that way to a business meeting.
Slipstream
Wyn mentions about the potential buy-out by Lucas film that Sony were going to manufacturer the machine
Michael Baxter
I'll be honest - I don't remember the Sony connection - I did meet some people from Lucas - the machine was previewed in a toy show, I think it was January or maybe February.
The thing that sticks in my mind was that the magician Paul Daniels was there on the stand looking at the product and I remember there were people from Lucas film and Wyn was telling everyone - "don't talk to them I don't want you to mess up my negotiations". They came up to me and talked about the promotion and I found them to be very reasonable and rational people who had a very good understanding of the marketplace.
It wasn't that long after the first Star wars trilogy - Lucas's reputation was superb, it hadn't been damaged by characters like Jar Jar Binks. Back then Lucas had a massive amount of Kudos.
I do remember that TV-AM were going to do a feature about the Multi-system - and I recall getting up very early to get there, I lived in Brighton at that time so it was quite a stretch to get to docklands or wherever and when I got to the studio I was told they had changed their minds and weren't going to do the feature. Everyone at Konix had known the night before but no one had thought to tell me.
Michael Baxter
I've lost touch with the games industry - I haven't been involved in it for a long time.
Slipstream
Well, thanks for your time Michael, I appreciate it greatly.
Michael Baxter
No problem.